Another Open Beta for Diablo 4 is coming on May 12! The limitations are similar to the previous Open Beta, except the level cap is 20, loot drop rates are normalized, and there are more exclusive open beta rewards for defeating Ashava.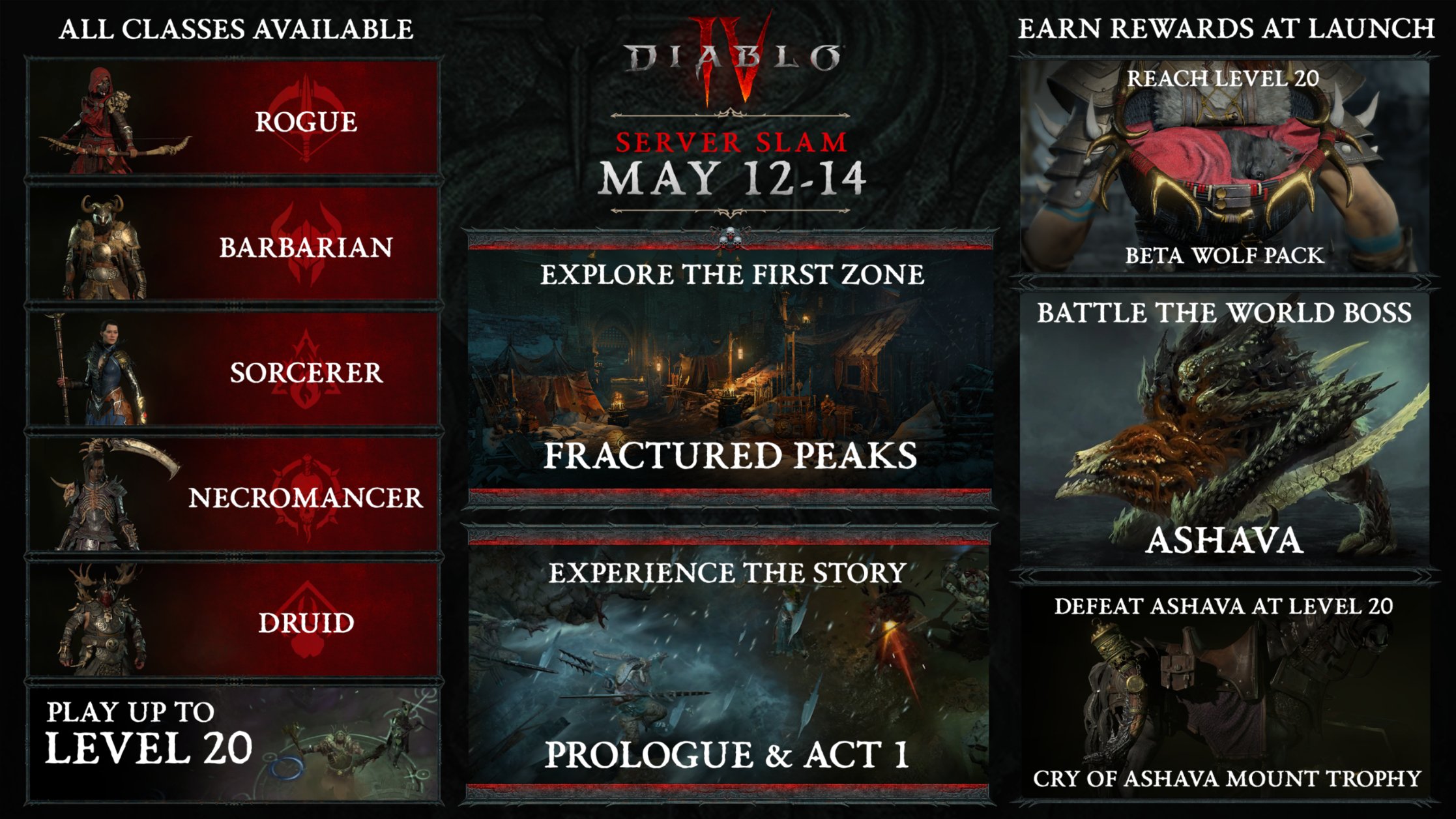 Players will have to create new characters, and defeat Ashava again at level 20 who spawns every 3 hours.
Countdown
Start
May 12, 2023 12PM PDT
End
May 14, 2023 12PM PDT
This news article is directly from the official blog post by Blizzard, which can be found here. We added the countdown timers (which can also be found on the homepage) in their appropriate sections to assist you with the time conversions!
Help Us Gear Up for Launch During the Diablo IV Server Slam
Calling all wanderers! In preparation for the launch of Diablo IV on June 6, we must enlist your demon-cleansing services for one final task: Server Slam.
From May 12, 12 p.m.–May 14, 12 p.m. PDT, everyone can come to Sanctuary's defense on Windows PC, Xbox Series X|S, Xbox One, PlayStation 5, and PlayStation 4—along with couch co-op for consoles and cross-play and cross-progression for all platforms—against the armies of the Burning Hells to help us test the durability of our servers.
---
What to Expect During Server Slam
Server Slam will give players one final weekend in Hell to experience a fraction of what Diablo IV has to offer, while simultaneously testing the capabilities of our servers prior to launch. The Prologue and entirety of Act I will be your canvas to paint with the remains of slain demons. Fractured Peaks, the first Zone, is yours to navigate as you please. Traverse its rugged landscape as Barbarian, Druid, Necromancer, Rogue, or Sorcerer, unleashing devastating power upon foes, and honing your unique skillset in the process.
For those who played during our Early Access and Open Beta weekends, these details may seem familiar—however, there are a few nuances we're ushering in with Server Slam.
Any character progress made during the Early Access and Open Beta weekends will not carry over to Server Slam. Additionally, any character progress made during Server Slam will not carry over to launch.
Players may level up their characters to Level 20, after which you will cease to gain Ability Points, but can continue to slay demons and earn alluring gear.
The Legendary Item drop rate has been altered to reflect the drop rate that will be present in the launch version of Diablo IV.
The version of Diablo IV available during Server Slam will include all the bug fixes and updates detailed in our Open Beta Retrospective blog.
Fractured Peaks is not only teeming with danger for you to vanquish, but a variety of activities to Level up your character with. Visit Kyovashad to repair and purchase new gear, upgrade your healing potion, access the Stash, and much more. There's also both Main and Side Quests to experience Sanctuary's rich story, World and Legion Events to exercise your martial prowess, and Dungeons to amass gear from.
Overcome Server Slam's Biggest Challenge: Ashava
Steel yourself before one of the Burning Hells' most fowl machinations, Ashava. She's a lumbering behemoth with two razor-sharp arm blades, scales stronger than plate mail, and hell-bent on ripping through all who interrupt her quest to bathe Sanctuary in poisonous bile.
Because your characters can't surpass Level 20 during Server Slam, felling her will be quite the monumental task.
Here's when you'll have an opportunity to combat Ashava during Server Slam:
May 13 starting at 9 a.m. PDT and every 3 hours thereafter until the final spawn on May 14 at 9 a.m. PDT.
---
Earn Server Slam Rewards as You Play
Felling the pestilence spewing Ashava comes with a new earnable reward, the Cry of Ashava Mount Trophy. We've also reanimated rewards from our Early Access and Open Beta weekends, giving players another chance at earning these tokens of valor by spilling demon blood. Players who unlock these rewards will receive them once Diablo IV launches.
If you previously earned any of the below rewards from the Early Access and Open Beta weekends, you DO NOT need to earn them again.
Initial Casualty Title: earned by reaching Kyovashad with one character.
Early Voyager Title: earned by reaching Level 20 on one character.
Beta Wolf Pack Cosmetic Item: earned by reaching Level 20 on one character.
Cry of Ashava Mount Trophy: earned by defeating Ashava with one Level 20 character.
---
How to Download Server Slam
There's no need to wait until May 12 to begin your download of Server Slam! Early Download for this experience starts on May 10 at 12 p.m. PDT. See the directions below on how to download Server Slam for your platform of choice.
If you do not have the Diablo IV Open Beta downloaded:
PC
Launch the Battle.net client. If Diablo IV is not already in your Favorites bar, you can add it by clicking on the + icon. Alternatively, you can find Diablo IV by accessing the All Games page. You'll see Diablo IV at the top of the list.
Once you get to the Diablo IV Game Page, click the dropdown menu under Game Version and select the Diablo IV – Server Slam option. Click the blue button that says Install. The game will begin to install, and once it's available, click Play to Launch.
Xbox
Launch the Xbox Store and search for Diablo IV–Server Slam. Select Download.
PlayStation
Launch the PlayStation Store and search for Diablo IV–Server Slam. Select Download.
For those that still have the Diablo IV Open Beta downloaded:
Once the Early Download period begins, an update will be available for you to download. After Server Slam starts, you can begin your journey into Sanctuary.
Note: An Xbox Live Gold or PlayStation Plus subscription will not be required to play Diablo IV during the Open Beta and Early Access weekends in most regions. In Germany, a PlayStation Plus subscription will be required due to ratings requirements. Once Diablo IV launches, an Xbox Live Gold or PlayStation Plus subscription will be required to access some of the game's multiplayer features.
---
Watch the Latest Diablo IV Developer Update Livestream
Our latest Diablo IV Developer Update Livestream may have concluded, but you can catch up on hellish new insights about the game through the below video on demand.
Today, we were joined by game director Joe Shely, associate game director Joseph Piepiora, and associate director of community Adam Fletcher—accompanied by special guest host Rhykker. This group of Diablo experts shed some light on endgame offerings, elaborated on changes made to Classes and dungeons because of player feedback and gameplay data, and held a live Q&A session where players fielded questions directly to our developers.
Be Prepared to Enter Hell's Gates
If you have not already pre-purchased the Diablo IV Ultimate Edition for your platform of choice and want triumph over Lilith's legions with up to 4 days of Early Access to launch, visit the shop.
Thank you for getting us ready for launch!
-The Diablo IV Team